I grew up in Bitburg (Eifel), which is located near the western border of Germany with Luxemburg. There I attended the St.Willibrord Gymnasium and later studied English Language and Literature, History, and Education at the Universitšt Trier and the Johannes-Gutenberg Universitšt Mainz, where I completed a Master's Degree in English Linguistics, with minors in English Literature and Medieval/Modern History (see links to my resume). Studies in the U.S. took me to the University of Missouri, where I received a Master's Degree in Curriculum and Instruction (English Education). Having taught English for Business and Economics for a few years, I was fascinated by the subject matter and felt that I really needed to know more about the concepts of business in order to teach it well, so I began an MBA program at the University of Colorado at Boulder. In 1986 we relocated to the beautiful Green Mountain State of Vermont, where I completed my MBA at the University of Vermont.
I have been an ESL/EFL instructor since 1977, teaching in the U.S., Germany, and Indonesia. At Saint Michael's College, I taught in the Intensive English Program (IEP) and the Academic English Program (AEP) from 1986 to 2020, and in the MATESL Program since 1994. I also co-directed (1989-92) and directed the IEP (1993-94, 2018-20) as well as the AEP (2018-20) and was involved in strategic planning, marketing research, financial planning, curriculum planning and administration, as well as testing and assessment in various capacities. Before joining the faculty at Saint Michael's College, I taught at the Economics Institute in Boulder, Colorado (1979-1986), the Bridge International School in Denver (1979), and ELS (English Language Services) in Denver (1978, 4 months).
In addition to my educational (M.Ed. in Curriculum and Instruction) and linguistic expertise (M.A. in English Linguistics), I taught business (MBA in Business Administration) and Business English courses at Saint Michael's College, and carried out strategic planning, management information systems, budgeting, and new program development for the Applied Linguistics Department at St. Michael's, which was eliminated by the College in 2020.
In my professional work I have been heavily involved in online learning and teaching and the research on these topics, designing and authoring in 2000 the first online/pure distance course at Saint Michael's College--Computer-Assisted Language Learning and Curriculum & Syllabus Design (2011), both part of the graduate teacher training (MATESOL) program at Saint Michael's College. The courses enroll students from all over the world, mostly Saint Michael's College students and alumni who are teaching/working in their home countries. I co-founded and led the development of the annual Electronic Village Online sessions of the CALL Interest Section (IS) of TESOL (2000-2004) and also designed and taught online courses for TESOL for many years. From 2009 to 2011 I chaired the CALL-IS of TESOL and for my service to the IS was awarded the D. Scott Enright Service Award at the TESOL Convention in Philadelphia (see Professional Distinctions & Recognitions). I have presented my research and practical experience at international TESOL Conventions and other national and international conferences, in particular on technology (CALL and online learning/teaching), business writing, and the cultural implications of writing (see the links to Online Teaching / Authoring and Professional Presentations. For several years I also consulted with institutions and publishing companies on strategic planning for technology and incorporating technology into the curriculum (see Consulting). In November 2012 I conducted a quality assurance review of two English language programs in Canada. In spring 2018 I was asked to be the Director of English Language Programs at Saint Michael's College. Interacting with international students, faculty, and staff in the Intensive English Program (IEP), the Academic English Program (AEP), and the MATESOL was the joy of my professional life.
On a personal level, I am married to Dr. Reza Ramazani, professor of economics at Saint Michael's College and native of Iran. We met in Boulder, Colorado, in 1980, as colleagues at the Economics Institute, and got married in 1985. We have a daughter, who is bilingual in English and German (listening, speaking, reading, and writing), taught 7th and 8th grade science as part of the Teach for America program in Hartford, Connecticut, for three years, and is now pediatric resident at the University of Rochester, fulfilling her lifelong dream of becoming a pediatrician. As a family we enjoy traveling, hiking, kayaking, and cross-country skiing as well as hosting relatives and friends from many countries.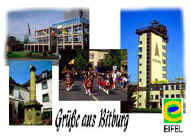 My home town
Bitburg/Eifel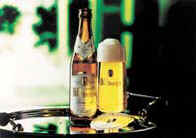 Home of Bitburger Pils


Impressions of the Eifel/Mosel area

Roman Villa Otrang (3/4 mile from my home)