Welcome...



The Teaching Gardens of Saint Michael's College is an active outdoor learning laboratory that consists of an arboretum, a children's literature garden " Books in Bloom," The Native Plants of Vermont Garden, the International Garden, and the Word Garden. Founded in 2004, these gardens have grown through collaborative work between the departments of Education, Biology, and Applied Linguistics.  The gardens reflect interdisciplinary exploration and as a result expand the traditional concept of a garden.

In addition to serving our college community, these gardens are a destination in Chittenden County for visitors who want to learn about plants, their role in children's literature and our environment, or just want to picnic in an aesthetically pleasing corner of our campus.
Visit us on Facebook! 



News



Fall 2014
(September 1-12)


Photo by Michael Clookey
Stone artist Thea Alvin builds an arch in the Teaching Gardens. Visit this work in progress as members of the SMC community join in.

All are invited to Thea's talk "The Art of Stone" on 9/8 from 5-6pm in Cheray 111.
Summer 2014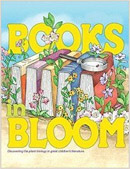 By Teaching Gardens co-founders Valerie Bang-Jensen and Mark Lubkowitz

A curriculum for teaching science through literature, the book examines the literary elements and biological "back story" in 17 outstanding picture books for children. Just published by the National Gardening Association and available through the NGA or at Amazon.com

News Archive