Welcome...



The Teaching Gardens of Saint Michael's College is an active outdoor learning laboratory that consists of an arboretum, a children's literature garden " Books in Bloom," The Native Plants of Vermont Garden, the International Garden, and the Word Garden. Founded in 2004, these gardens have grown through collaborative work between the departments of Education, Biology, and Applied Linguistics.  The gardens reflect interdisciplinary exploration and as a result expand the traditional concept of a garden.

In addition to serving our college community, these gardens are a destination in Chittenden County for visitors who want to learn about plants, their role in children's literature and our environment, or just want to picnic in an aesthetically pleasing corner of our campus.
Visit us on Facebook! 



News



Summer 2015

Teaching Gardens co-founders, Professors Mark Lubkowitz and Valerie Bang-Jensen, will be presenting at the American Horticultural Society's annual National Symposium for Children and Youth Gardening in Austin Texas.
Their session, "Reading a Garden" will invite participants to find ways to connect literacy and plant biology.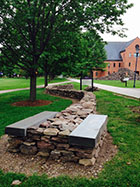 Thea Alvin, stone artist (www.myearthwork.com) is constructing a stone bench with a scope through which to view the arch and plinth.